It is that time of year again. I have been seeing tons of new items and sales in emails, on facebook and twitter and everywhere else too so I thought it was time to put together my Holiday Gift Guide for 2012. Here you will find my top choices in natural or low-chemical beauty products that you can gift yourself, a friend or a loved one this season.
image from radsoap.com
Rad Soap Co's Wonderland Chaga Duo
- I love to support local businesses, especially when their products are awesome. I discovered Rad Soap last year at a local arts & crafts fest and went back this year to buy a bunch more. While standing waiting to cash out, I smelled something so wonderful, I had to know what it was and started sniffing things...aha! I was smelling Wonderland Chaga. Chaga has some wonderful natural benefits and this smells divine! $35 for the set.
image from mcgillycuddysoap.com
Create Your Own Soap Gift Box
- Another great local company is McGillycuddy's Naturals. Their products are great and they are "good people" so I love to give them a shout out. I learned to make soap with them last year. This year, I am going to recommend you gift someone a custom soap box. Pick 5 of the scents and types you want all for $20.95.
image from loveshinenyc.com
Lipstick Purse (or any other bag) from Love Shine!
- This is an amazing shop I finally got to visit in East Village, NYC and I had to get a yoga mat bag and a tote. I loved everything there. I use the tote daily for my work stuff, books, iPad, etc. The yoga mat bag has plenty of room for my yoga mat and then some. It is all hand-sewn & the fabric is high quality and the guy who makes this stuff is a really nice guy. Go check them out! Prices range.
image from badgerbalm.com
Badger Sleep Balm Ornament
- Badger has ornaments with their balms this year. How cute!!! Badger is a very trusted company that does their best for their customers and their employees. I think they should be a part of everyone's holiday. They also have some great gift sets on their site. $5.99
image from burtsbees.com
Burt's Bees Tinted Lip Balm Duo
- I am addicted to these lip balms. These live in my purse at all times. Who wants to use a basic plain lip balm when you can use one that gives a hint of color and oomph to your skin tone. Retails for $10
image from ecotools.com




Eco Tools 6 piece Day to Night Set
- This is a great set of synthetic animal friendly eco friendly brushes. You get a lip brush, eye brush, face brush, concealer brush and smudge brush all in this great case. I got this and plan to review it soon. Retails for $16.99.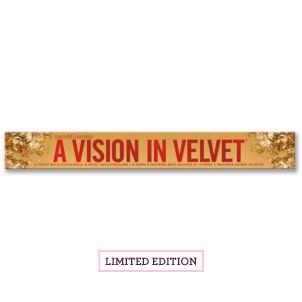 Image from bareescentuals.com
BareMinerals A Vision In Velvet
- What a deal and what a fun item. You can 20 eyeshadows in velvet or satin, 10 shades in each type of eyeshadow. The lids are gold, the packaging is beautiful and who doesn't love a collection of beautiful eye colors! This is available on Nov 23 at Bare Escentuals boutiques and online. It is also available from Sephora, Ulta and Nordstrom. Retails for $79
Image from Indielee.com
Indie Lee - The Power Trio
- This trio has 3 full size items that truly pamper. You get the Body Balm, the Body Scrub and the Daily Moisturizing Oil. This is a great year round gift but in winter, we need extra soothing, exfoliation and moisturizing. Retails for $80.
Image from DeepSteep.com




Deep Steep Candy Mint Collection
- Get all 4 items on their site for a discounted price of $24.95. This includes Foot Cream, the Foot Stick, a Foot Polish and a Foot Mist. Pamper your tired feet, or someone else's with this minty treat.
Image from Lather.com


Nutcracker Sweet from Lather
- Get an almond creme body buff scrub and an almond, milk and honey body butter set. So yummy and great for a pampering holiday treat for you or as a gift. I love the name too! Retails for $35
Image from Pacifica.com
Pacifica's Indian Coconut Nectar Holiday Wanderlust Collection
- Get a body butter, body wash and roller ball perfume in my absolute favorite scent, Indian Coconut Nectar. They have other scents too but this is my fave. It smells yummy and cuts out most of those icky chemicals other fragrance brands use. Retails for $28
Happy Holidays!

Support Small Business!

Support Local Business!
Go green & natural!
I am not affiliated with this company. I purchased these products myself for personal use unless otherwise noted. My opinion is completely honest no matter how I received any items mentioned on this blog.
***Please do not use the content or images from this blog without crediting the source and linking back to this blog. Doing so without permission and crediting the source is copyright infringement.Thank you.***
Pin It