I realized that my current natural deodorant was leaving white marks on my clothing and many items were needing to be washed twice to get it out. So it was time to find a new natural deodorant.
After many suggestions from friends and readers and reading lots of online reviews, I opted to try three of them. My requirements were natural deodorants with good ingredients, good reviews, good scents and affordable.
Here are the three I tried:
image from Aubrey Organics Website
Aubrey Organics E Plus High C Roll On
Very nice, light scent, not messy. It didn't leave marks on my clothes. Works pretty well. I was impressed. I did need to reapply later in the day, especially if it was warm or I was very active.
image from Naturally Fresh Website
Geo Deo Natural Deodorant plus detox complex in Island
This smells delicious and feels so nice on. It comes in solid form so it is really easy to apply. Unfortunately, it didn't seem to last long or prevent me from getting a bit stinky later in the day. This would require reapplication throughout the day for me. Nothing left on my clothes. I now use this at night if my natural deodorant wore off a little bit or I was a bit active so I smell nice before bed.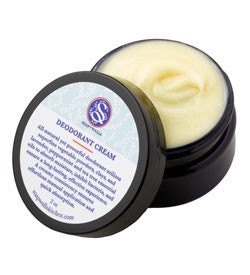 image from Soapwalla Etsy Website
Soapwalla Deodorant Cream
I wasn't sure how I felt about applying a cream to my armpits but I heard raves about this from so many people that I had to try it out. I am sold. This is my new everyday deodorant. I rub my finger around a bit to warm it up, especially when it is colder out and then apply to my armpits. It smells like lavender. On a really hot or active day, I might need to reapply later on, especially if I am going out but it is not too bad at all if I just want to be home and relaxing. This one gets an A+ from me! You can find it on Soapwalla's site, Their Etsy Site or Spirit Beauty Lounge Website.
I am not affiliated with this company. I purchased these products myself for personal use unless otherwise noted. My opinion is completely honest no matter how I received any items mentioned on this blog.
***Please do not use the content or images from this blog without crediting the source and linking back to this blog. Doing so without permission and crediting the source is copyright infringement.Thank you.***
Pin It