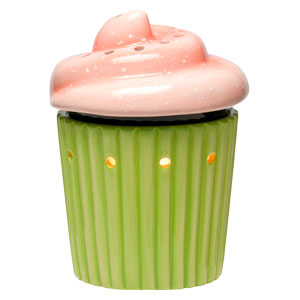 The warmer of the month is a cupcake!!! It is my Scentsy party destiny! LOL
I got hooked on Scentsy by my fabulous BE friend Tish. Now it is my turn to host a party, finally! Since my schedule isn't very party friendly, I am hosting a basket party where I get a basket of samples to show to friends but also, friends who live farther away can order online. If you already know and love Scentsy, you can go here to order from my party:
https://kristin.scentsy.us/Buy?partyId=43790583
If you are not familiar with Scentsy and want more info, keep reading. Then you can decide if Scentsy is for you and click the link above.
Scentsy started out as the idea of 2 stay-at-home moms. They came up with warmers that use light bulbs instead of a flame to warm wax and release the yummy scent into the air and trust me, these scents are yummy! They are pretty much wickless scented candles but they have more than that now. Their fragrances are phthalate free! Scentsy has various scents that you can buy to put in full size warmers, medium size warmers, wall plug-in warmers or you can even get a Scentsy buddy, travel tins, hanging scent circles (like air fresheners that you hang in your car), room sprays and more! Their warmers are gorgeous and come in all sorts of designs and themes. If you want to take a look, click on the link above. If you have any questions, please let me know and I will do my best to answer them.
Edited to add: My party end date is July 23 so place your orders before then!
I am not affiliated with this company. I purchased these products myself for personal use unless otherwise noted.
Pin It